Home

/

Blog

/

6 Iconic museums that depict the colorful lives on the Cape Whale Coast in the times of shipwrecks and whaling.
Whale Museum in Hermanus
Hermanus Whale Museum
Author: Jaydee Media
Thursday, 13 June 2013
The Whale House consist of an exhibition hall especially designed to house a suspended whale skeleton and whale exhibition. Establishing a natural & cultural history exhibition in the Whale House – 'The Whales of Walker Bay'
Page Views
3538
The search for a 'right' whale skeleton was on. In 1998 negotiations was started with the Technical Division of Museum Service (Dep of Cultural Affairs) to do the research & compile a world-class exhibition on cetaceans.
In July 2003 a suitable skeleton was found after many unsuccessful attempts. A young female Southern Right whale washed up on the rocks at Onrus River. She was exactly the right size. Recovery of the bones were done by taxidermist, Piet Pretorius assisted by the Overstrand Municipality and Hermanus Coast Care. Because it was at the beginning of the school holidays, a lot of interest was shown from visitors and many parents had to keep inquisitive children away from touching the smelly bones.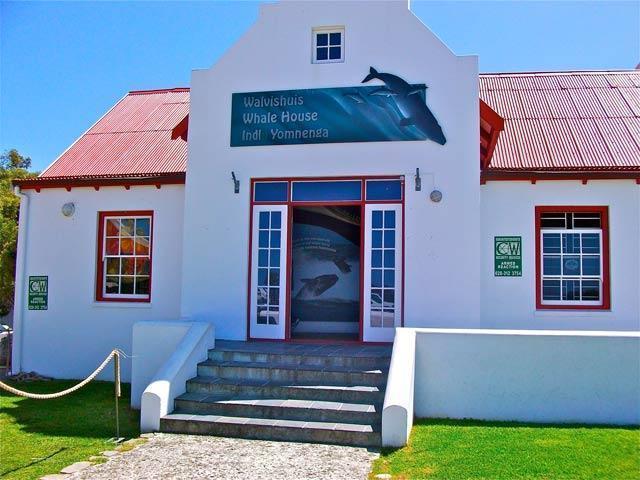 By early 1990's whales became a chosen tourist attraction. Hermanus became known as the heart of the Whale Route and the museum has one of the best close up whale watching spots in town as well as a telescope.
A whale museum to inform and educate the many local visitors and learners, as well as national and international tourists, who view the beautiful whales in Walker Bay. This museum will be entirely dedicated to whale exhibits, specially the southern right, and anything pertaining to cetaceans.
Daily at 10:00 and 15:00 an audio-visual presentation is given at the Whale Museum, where one is taken below the surface to a face-to-face encounter with the visiting Southern Right whales.