Waar kom die naam Sopiesklip Vandaan?
Author: Jeanette du Toit
Wednesday, 07 October 2015
Tussen Grotto Beach in Hermanus en De Kelders is daar 'n uigeholde rots op die strand.
Page Views
5504
Ek het al menigte stories gehoor oor Sopiesklip en waar die naam vandaan kom, en later besef… dit moes in verskillende tye gebeur het.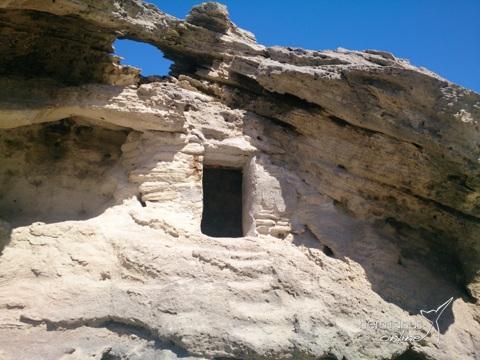 So paar weke gelede het ek hierdie storie gehoor van 'n man met die naam, Mike – hy is so tussen 75 – 83 jaar oud en bly sy hele lewe op Hermanus. So dit moet die oudste storie wees waarvan ek weet.
Hy vertel dat in die ou dae toe die visserbote nog seile en roeispanne gehad het, dit moet seker so tussen 1855 en 1950 gewees het.
Waneer die wind sterk opstoot het oor die see of daar was 'n storm op die see, het die wind die visserbote tot in die middel van Walkerbaai gestoot. Beduie Mike met groot hande en swaaiende gebare. "Jy sien" sê hy: "Die bote het in die sterk seestroom beland en het by Sopiesklip uitgespoel met die vissemanne. Baie van hulle was natuurlik sopnat en yskoud verkluim. Deur die jare het die vissermanne hierdie holte in die klip uitgekap en brandewyn (nog in daardie ou glasbottels met die toue om) hier by sopiesklip gelos. So waneer die visserbote uitgespoel het met die verkluimede vissermanne was dit dubbel doelig, hulle kon die koue, bibberende vissermanne "revive" met 'n sopie van die brandewyn asook sommer self 'n sopie drink om die koue uit te dryf". Hier kon die vissermanne natuurlik ook skuiling vind teen die wind en die branders.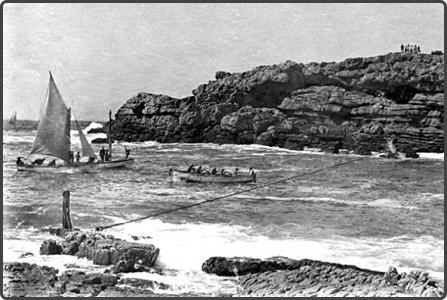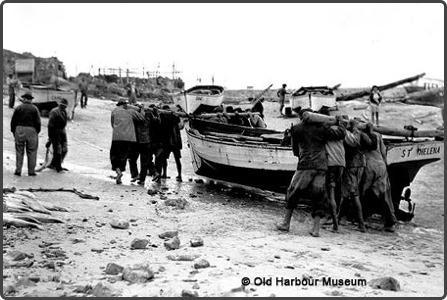 Die volgende storie is 'n meer bekende een wat al vir generasies oor vertel is.
Hierdie hol rots op die strand tussen Hermanus en Gansbaai het sy naam gekry toe die Gansbaaiers hul proviand strand-langs op Hermanus gaan haal het. Miskien het hulle sommer so op dieselfde trippie hulle vis na die mark in Hermanus geneem. Sopiesklip was die halfwegpunt, en daar aangekom, was dit tyd vir 'n sopie.
In jou geestesoog kan jy die manne en vroue sien, met ossewaens deur die sand om die lang tog van 18km oor die sand (die plaat) aan te durf na Hermanus. Volgens die boek van Jose Burman "In the footsteps of Lady Ann Barnard" was dit moeilik en 'n stadig om met osse en ossewaens op die plaat met sy dik seesand te ry.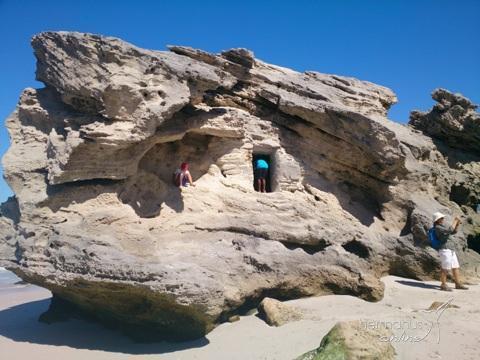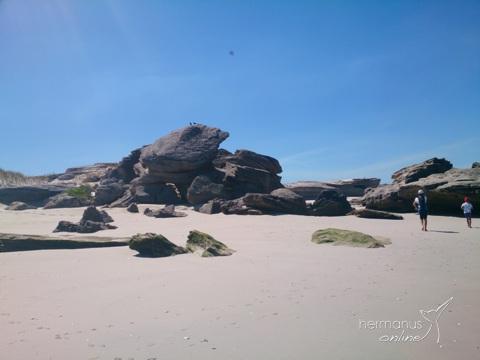 Vanaf De Kelders na Grotto beach is dit omtrent 18km en Sopiesklip is omtrent 12 km vanaf De Kelders en 6 km vanaf Grotto beach. Dan so 6km voor Grotto Beach is hierdie klomp rotse op die strand wat koelte gee aan mens en dier, en natuurlik 'n welverdiende ruskansie op 'n sopie whisky te drink voor hulle die laaste tog Hermanus toe gery het.
Ek dink die Otto storie was in die tagtigerjare
Hierdie storietjie het ek by die bekende SJ du Toit gekry en dis weer aan haar vertel deur Brian Macfalane (Senior).
Brian Macfarlane(Senior) and Otto of Sopiesklip.
My father used to go along the Plaat with his Jeep to Sopies Klip, which is halfway between De Kelders and De Mond. The rock, which is surrounded by waves at high tide, has a cave house called "Die Paradys".
The house was made by an old German named Otto who lived in Hermanus. He used to go fishing on a thick-wheel bicycle and got tired of going up and down, so he made Die Paradys. Hy was also a bit of a recluse and liked it there. He used to run out of fresh water and food and my father used to take him supplies of food, water and newspapers, and take his fish back to sell for him.
Source
Old Harbour Museum
"Mike"
Photo Museum
Brian Macfarlane
S.J du Toit
Folklore
Photos: Old Harbour Museum
Jaydee Media